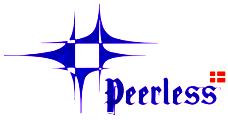 The search for musical realism is a very delicate and subjective task which is why we at Peerless make use of a wide range of sources when speakers are produced and developed.


First of all, we profit from the more than 70 years of experience that Peerless has in creating sound reproduction to develop new and highly refined loudspeaker units.


Secondly, computer technology is used intensively to optimise design and to produce speakers with a high and uniform quality.


Third, and not the least, the human ear is used to make the very important subjective judgments of the sound reproduction each speaker provides.

The result is that all speakers leaving Peerless have been subject to extensive quality testing including both computerized and human listening tests. During the manufacture of speakers great care is taken by each employee to create the uncompromising quality that has established Peerless as a well-known world-wide brand name. High quality standards and substantial use of new technology ensure that all loudspeakers bearing the Peerless name are synonymous with very high degrees of complexity and reliability in performance and design.

A unique feature of Peerless, directly derived from our pursuit of excellence, is the in-house production of all the vital soft and sound reproducing components- a feature that in many ways symbolises our organisation; giving Peerless a competitive advantage in the control of acoustic performance.

Our overall aim is to continuously optimize the purity of sound- thus improving the listening pleasure.
Great effort is put int R&D positioning Peerless at the forefront of technological innovation.
To maintain this position we have created a dynamic and flat organization where all new ideas are nurtured and carefully evaluated.

It is our philosophy to create speakers that combine that latest computer technology, high engineering standards, and craftsmanship with a tradition for audio excellence to produce a pure and life-like sound picture without listening fatigue.

Our philosophy and products are recognized world-wide by some of the worlds finest producers of high quality audio equipment. A recognition that we at Peerless are very proud of and also a recognition that we do our utmost to fulfill by serving all customers - small or large- according to very high service standards.

With today's large variety of standard as well as customized loudspeaker units we feel ready to meet the new challenges of the 21st century.

We are therefore proud to present this Peerless programme incorporation both new and classic products for both home and car audio listeners.

Refer to Peerless web site for more informations