ERSE's H shaped Magnetic core coil
Mfg. of USA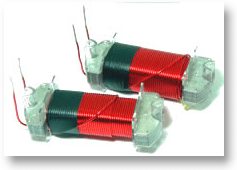 OVERVIEW
Finally a sonically superior magnetic core coil - ERSE's SUPER Q.
The SUPER Q coil characteristics virtually match any air core coil given a frequency range of 0 Hz to 3000 Hz. Except, the SUPER Q has a much lower DC resistance and much higher quality factor than a comparatively priced air core coil.
The SUPER Q coil features a specially 'H' shaped, micro thin silicon grain oriented steel. The special 'H' shape allows for minimal magnetic flux leaking and increases the coils effective permeability.
The high permeable design allowed us to achieve extremely low DC resistance and significantly reduce distortion.
The SUPER Q coil is also totally void of any magneto striction distortion. This is due to the plastic encapsulation (insert molded) of the low distortion steel.
ERSE designed the plastic molded bobbin with two mounting areas to allow for ease of mounting.
FEATURES
- Ultra Low D.C.R.
- Very High Quality Factor
- Insert Plastic Molded Core
- Screw Mountable Bobbin
- Very High Saturation Levels
- Very Low Stray Magnetic Fields
- No Magneto Striction Distortion

SPECIFICATIONS
- Inductive Tolerance +/-5%
- 99.99% High Purity Copper
- Electrical Conductivity: 101.5%
- Saturation Levels:
- ESQ55 - up to 20 Amps
(60Hz AC @ 5%)
-Temp Range: -25°C to 85°C
- Insulation Temp: 155°C

Sound Characters;
Good in Impacts, Dynamic, Musical bounce, Extanded bass



Capacitance (mH)
#14AWG ESQ55 series
0.47mH  
0.68mH
0.83mH
0.86mH

1.0mH   
1.2mH
1.5mH
1.8mH
2.0mH
2.2mH
3.0mH
3.3mH
4.7mH
5.6mH
6.8mH
7.5mH



#16AWG ESQ55 series
10 mH
12 mH
15 mH
18 mH
22 mH
25 mH



For others value and series specifications, please contact
Last updated on6/31/06