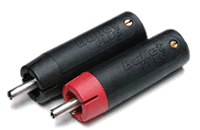 Bullet-S Eichmann Bullet Plug 純銀RCA子彈插頭

Pure silver pole純銀插頭身芯, 優化任一類比 ,數位或影視線,
屬一的接頭效能, 近似無接點形同沒插頭.
holds for cable of 9mm線徑使用
彩色印刷包裝盒; 4pcs/盒
澳洲專利設計,OEM臺灣製造
The ultimate in connector performance, consider the new

Silver Bullet Plug®

.

The contact pins are machined from hard drawn 4-nines pure silver rod, and then treated with Caig Preservit 5PL - which leaves a microscopic protective coating to prevent oxidation and enhance conductivity.

Sound quality is in the highest league, with subtle but significant improvements over the standard tellurium copper plug.

Ideal for silver interconnects and any high performance cable.