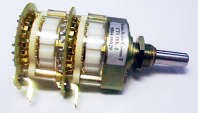 CT1 audio attenuator

CT1 STEPPED ATTENUATOR
DESCRIPTION:
The Danish Audio connect's(DACT) CT1 is a high quality stepped 24-position attenuator or volume control for high quality amplifiers and other equipment that you can ever owned nowadays.
It is supplied in a two channel (stereo) version with two individual Printed Circuit Boards mounted on a two wafer rotary switch. The series resistor network consists of 23 non-inductive low noise SMD metal film resistors.
The layout of the PC Boards and the choice of resistors has reduced the signal path to a minimum length (Patent is Pending).
All contacts and PC Board traces are gold plated to ensure long-term reliability.
The rotary switch is a gold plated high precision switch manufactured in Switzerland and is a make-before-break type.
The CTl is designed for maximum sound quality, accuracy and reliability.
Standard impedance in stereo are 10K, 20K, 50K, 100K and 250K ohm, ohmic law type A.
Mono type impedance are 10K, 100K & 250K. Ohmic law type A.
Other custom designed versions are offered.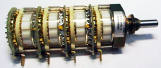 CT1-2-4 4 wafer version for truly balanced stereo
APPLICATIONS:
Volume control for high quality Hi-Fi amplifiers etc.
Volume control for professional audio equipment
Attenuator in measuring and test equipment
Upgrading existing equipment

FEATURES:
Low noise, metal film SMD resistor network
Very compact design
Entire signal path excluding resistors is
gold plated
Five times shorter signal path
Reduced inductance and stray capacitance

ADVANTAGES:
Improved sound quality
Improved accuracy
Improved reliability
Increased bandwidth
Improve tracking between the two channels
Reduced distortion

OVERALL DIMENSIONS:
31 x 37 x 71mm(L)

---

CT2-2-6 Stepped Audio Attenuator, 6 Deck version for Home Theatre/AV Audio
* for application of 5.1 channel system


---

CT2-2-8 Stepped Audio Attenuator, 8 Channel for 7.1 Channel Home Theatre/AV Audio
*for applications of 7.1 channel system



The 8-gang attenuators feature 24 positions like the other DACT audio attenuators, and same unique specifications like for instance:
- Bandwidth (10kOhm): 50MHz
- Channel matching: +/-0.05dB
- THD: 0.0001%
- Mechanical life, min.: 25,000 cycles
---

CT3-2-5 Audio Input Selector Switch
Special design for audio input selection, simultaneously switch both signal and grounding.
Effectively and ideal construction to minimize noise or coupling sound from ground side.
5 step input selector with gold plating contacts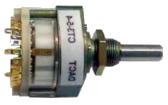 ---

CT4-2-23 Stepped Attenuator Balanced controller
(B type, with 12 step attenuating each channel)
Stock impedance values in 2 5k & 250KΩ.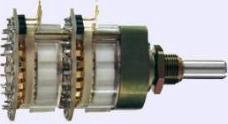 CT101 Line Stage Amp





(ex. CT1 + CT101 assembled & installed module)

CT101 Line Stage module
Specifications:
Gain(selectable): 0, 6©Î12 dB
Bandwidth(at 0 dB gain): 25 MHz
Slew rate(at 0 dB gain): 500 V/uS
S/N ratio(IHF A): 112 dB
THD: 0.0002 %
Output resistance: 0.1 ohm
Channel matching: +/- 0.05 dB
PCB dimensions: 100 x 34 mm

CT100 Phono RIAA Stage Module




CT100 Phono Stage Module data sheet



CT100 Phono RIAA Stage module
Specifications:
Gain(selectable): 40 ¨ì 80 dB
RIAA eq. deviation: +/- 0.05 dB
S/N ratio(40/80 dB gain): 98/71 dB
THD: 0.0003 %
Output resistance: 0.1 ohm
Channel separation: 120 dB
Bandwidth: 2 MHz
PCB dimensions: 105 x 63 mm

CT102 Hi-End Audio Power Supply




CT102 Hi-End Audio Power Supply module

Key Specifications/Features:
- Ready-assmbled module, tested, ready for connecting to audio electronics circuits
- Includes 100-250VAC mains adapter ready for connecting to the mains
- Output voltage (customer selectable): +/-15VDC or +/-20VDC
- Max. output current: 200mA
- Peak output current: 10A min.
- Output shortcircuit protected
- Output impedance:
0.001ohm at 1kHz
0.002ohm at 20kHz
0.006ohm at 100kHz
- Output noise (IHF A): -126dB
- PCB dimensions (L x W): 100mm x 90mm (3.54" x 3.94")
- Reduced capacitative coupling to the mains by using filtered switch mode mains adapter



CT-conn1 Interconnect wire set for CT series


CT-conn1 Interconnect wire set
- Design to use for DACT audio kits
- Silver plated copper wire with gold plated pin on plug
- each with 3 wire of length 30cm(12"), teflon isolation


CT1 Review from HI-FI WORLD SUPPLEMENT on April 1998


Contact for other specifications & requirements not listed on above
Last updated:9/7/07.